Thursday, November 30, 2006
Sufjan Stevens
, who we
posted
about months and months ago, is still planning to do 50 albums for 50 states. He has done Illinois, Michigan, and... Christmas? What the.... Sufjan, in his spare time, somehow has managed to record a 5 disk holiday box set. How he does it, I have no idea. Six albums in six year, and now
a new box set
. Amazing.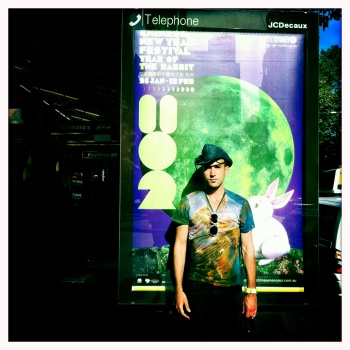 The songs are very nice. I was raised Baptist and have somewhere along the time line of my life abandoned it for a more Buddhist approach to things. I still appreciate the songs as a celebration of the season, but maybe not the holiday.
The box set (titled "Songs for Christmas") is chock full of surprises, including the following items (if you don't mind us ruining the surprise):
• Five individually packaged CD EPs!
• Five Christmas
stickers
!
• Extensive liner notes and short stories by Sufjan Stevens!
• An original Christmas essay by Rick Moody! (Highly recommended reading)
• An animated music video and comic strip by Tom Eaton!
• A Christmas Songbook with lyric sheets and chord charts--so you can sing along too!
• An original Christmas Family Portrait painting of Santa Sufjan (with wife and kids!) by Jacques Bredy!
Songs from the holiday box set-
Joy to the World
Let's Boogey to the Elf Dance
Sister Winter
That was the worst Christmas ever
Songs from other albums by Sufjan-
Chicago (acoustic)
Holland
Jason
Year of the dog
All good naysayers
Niagra Falls


Links to this post: