Thursday, November 16, 2006
Self-described as the music for Hometown, Anyplace -
Laura Gibson's
melodic "country songs" conjured up images of Hometown for me; just before I fell in love with a girl from deep in the forest of Coquille, Oregon.
Shes a kindergarten teacher and daughter of a forest ranger. If those two pieces of this puzzle don't say enough in describing where she comes from, nothing can. Her music is as easy-spoken and comforting as a kindergarten teacher would be with her new class on the first day. Leading us through the emotions of her simple life, Laura Gibson's "If you come to greet me" is a masterpiece.
Recorded at Portland's
Typefoundry Recording Studio
this spring, under the direction of
Adam Selzer
known best from
Norfolk and Western
. Much of Norfolk and Western stepped up to lend something to the album, and the collaboration's success shines though. Moments of utter simplicity and beauty are well abound.
Much of her first experimentation with music was done at the expense of her kindergarten classes, I feel certain she is ready for a slightly more mature audience. I look forward to hearing much more from
Laura Gibson
. Take a listen and see if you don't fall in love at first listen.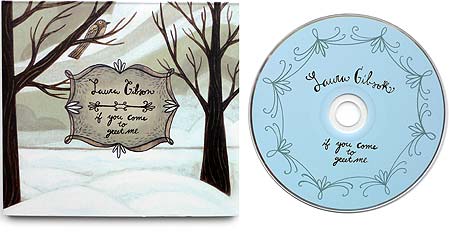 [mp3]

Laura Gibson - Hands in Pockets
[mp3]

Laura Gibson - Wintering
Web -
www.lauragibson.net
Buy
- "If you come to greet me" for only $12
Also...
Some
Norfolk and Western
songs:
[mp3]

Norfolk and Western - The Longest Stare
[mp3]

Norfolk and Western - Arrangements Made
[bonus mp3]

Norfolk and Western - A Gilded Age
[bonus mp3]

Norfolk and Western - Minor Daughter
[+bonus mp3]

Norfolk and Western - Impossible


Links to this post: